Celebrating our coaches this UK Coaching Week
Wednesday 16th September 2020
We're incredibly proud of the coaches we work with. Every day, we see the remarkable work they do with children and young people from all backgrounds, giving them the skills and confidence to achieve more.
This #UKCoachingWeek we want to celebrate their dedication, passion and endless belief in the potential of others.
Shaun Ainge – My love of coaching
"My daughter Natalie's interest in athletics took us to our local athletic club at a now demolished Cannock Stadium in 2004. After standing around watching her run for a few months, I thought "I fancy a go at that" and began to join in the sessions. It was the first time since school that I participated in athletics.
Coaching began to interest me; I qualified as an assistant coach in 2006 and then as a Level 2 sprint coach the following year. I initially worked with another coach at our club, Cannock & Stafford AC, before beginning my own training group in 2012 with athletes including Natalie and other athletes from the Cannock and Stafford area.
A number of these athletes still train regularly with me today. I'm very much of the opinion that athletes have to enjoy training or it's not worth them being there. If they enjoy it, they keep coming back. If they keep coming back, they'll continue to improve.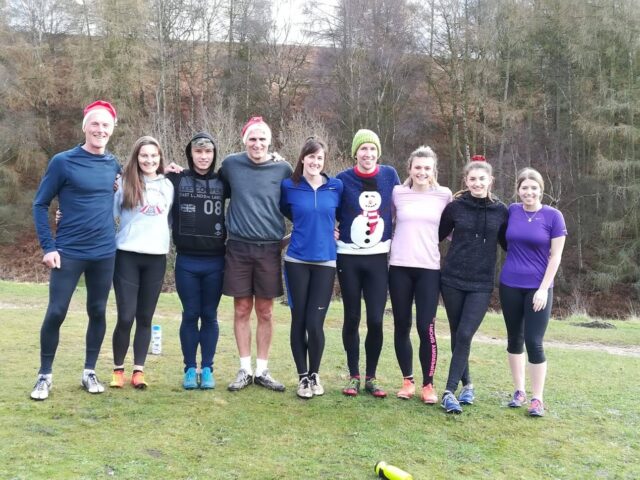 That certainly doesn't mean that sessions are easy. Athletes finding the nearest patch of grass on which to throw up is a pretty regular occurrence but they're still there for the next session.
It obviously makes me proud when some of my group such as Natalie, Megan Davies and Chloe Wilde race at events like the British Championships but I also like to feel that I've helped others improve to be close to a level of the best that they can be.
In order to help achieve this, I seek out other coaches' ideas of what works for them from webinars or published articles to try to enhance my coaching knowledge and, three years ago, I gained my Event Group Sprints and Hurdles qualification.
I enjoy coaching dedicated athletes. This photo shows the members of my group that trained on Christmas Day morning 2019 (I'm the fourth from left) – and all of them came because they enjoy their training!"