Staffordshire sees the return of IRONMAN 70.3 this Sunday
Wednesday 8th June 2022
Close to 3,000 athletes are registered to race in Staffordshire this weekend, making 2022 the largest IRONMAN Staffordshire event in history.
The 2022 IRONMAN season starts in the UK this Sunday as Staffordshire gets set to host the seventh edition of IRONMAN 70.3 Staffordshire.
The middle-distance swim, bike, run event will welcome the biggest athlete field in its history with close to 3,000 athletes registered to race.
As an age group athlete only race, the event will give amateur competitors the chance to be crowned IRONMAN 70.3 Staffordshire Champion for 2022.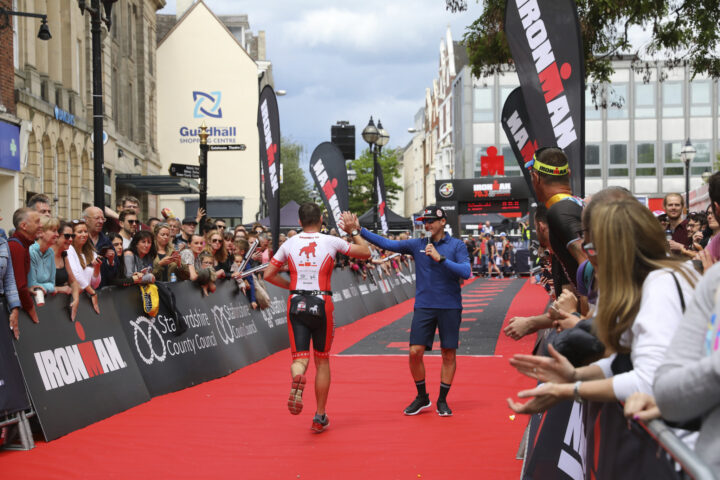 Finish line of 2021 IRONMAN 70.3 event.
Participants of all ages and backgrounds will look to push their limits, as registered athletes span from 18 to 77 years of age and will be travelling from 55 different countries to race in Staffordshire. A favourite amongst UK triathletes, entrants from England, Wales, and Scotland will make up 89% of the field this year – followed by representation from Ireland, France, the United States, and Poland.
The race will kick off with a self-seeded rolling start from 07:00 at Chasewater Country Park, where athletes will complete a 1.2 mile swim in the freshwater reservoir before heading out into the West Midlands countryside for the 56 mile bike leg of the course.
The route travels through Cannock Chase, traverses Great Haywood and Tixall, and steers toward Stafford Town Centre where athletes transition to their final stretch of the endurance challenge.
The 13.1 mile run then takes athletes alongside the River Sow on the way to Stafford Castle, where the iconic Knights of Stafford Castle – a local Tri Club complete with mediaeval armour – will cheer on participants before they make their way down the red carpet in Stafford's buzzing Market Square.
Councillor Carolyn Trowbridge, Cabinet Member for Leisure at Stafford Borough Council, said:
"IRONMAN 70.3 Staffordshire provides a wonderful opportunity to showcase the county. I know many of our local businesses are looking forward to a great weekend of trading as thousands of athletes, supporters, and spectators descend on the county town.  And I expect the atmosphere in the heart of Stafford will once again be electric, as the athletes make their way down the home stretch to the finish line with the cheers of the crowds urging them on."
The first athlete, and new IRONMAN 70.3 Staffordshire Champion, is expected to cross the IRONMAN 70.3 finish line at approximately 11:00, with a final race finish for all athletes at 17:00.
Last year's event saw age group athletes Hugh Brashaw and Lydia Dant claim their victories, finishing respectively with times of 4:07:21 and 4:30:33 on what was one of the hottest days of the calendar year.
Lydia Dant, now a professional triathlete representing GB at events around the world, went on to win her first full-distance IRONMAN race less than three weeks ago at IRONMAN Lanzarote. With big plans for the future and a triathlon career worth watching, Lydia will join the spectators at Stafford's Market Square on Sunday as she cheers on 15 of her Passion Fit Tri clubmates taking on the 70.3 mile race.
On the event, Lydia Dant commented:
"When I think back to racing in Stafford last year, the memory of winning isn't the first thing that pops in my mind. The privilege of sharing the course with athletes from the Passion Fit and wider triathlon community is what made the experience. IRONMAN 70.3 Staffordshire is one of my favourite races for so many reasons – the spectators, the athletes, and the epic IRONMAN team. I might not be joining the party on the course this year, but I'm equally – if not actually a little bit more – excited to support and be part of the incredible atmosphere in Staffordshire."
The event has seen no shortage of stardom race down its red carpet over the past six years, from the likes of Lucy Charles-Barclay, standing IRONMAN 70.3 World Champion, who took home the title in 2019, to British Chef and OBE Gordon Ramsey who raced the inaugural IRONMAN 70.3 Staffordshire in 2015.
An athlete worth watching at this year's event is Eccleshall local Andy Stone, a former alcoholic undertaking a Guinness World Record attempt to raise money for addiction charities. With the challenge to race 70 half-distance triathlons, the same distance as an IRONMAN 70.3, in just over 70 days, Andy will take on IRONMAN 70.3 Staffordshire before wrapping up his incredible accomplishment on 17 June.
Staffordshire County Council's Deputy Leader and Cabinet Member for Economy and Skills Philip White said:
"We're delighted to see IRONMAN 70.3 Staffordshire return to the county this year and with more registered athletes than ever before. The event enables us to showcase Staffordshire to visitors from across the UK and the world, and we work closely with our neighbours to provide an excellent experience for athletes, their families, and friends. With just days to go, everyone is eagerly anticipating the event and we'd like to remind people to check road closure times and locations over the weekend."
IRONMAN 70.3 Staffordshire commences what is sure to be an outstanding summer of triathlon across England and Wales, setting the tone for the UK season with its record-breaking registration numbers.
The 70.3 mile event will be closely followed by IRONMAN UK, England's longest running full-distance IRONMAN event, taking place in Bolton on 3 July. Next up in the 2022 calendar will be IRONMAN 70.3 Swansea, the first IRONMAN 70.3 event to ever take place on Welsh soil, making its debut on 7 August.
IRONMAN Wales, the iconic full-distance Tenby race asking athletes to 'Face the Dragon' will return on 11 September for its tenth anniversary celebration, before the season comes to a close on the Jurassic Coast with IRONMAN 70.3 Weymouth, taking place in Dorset on 18 September.
Rebecca Sutherland, Race Director for IRONMAN 70.3 Staffordshire, said:
"We'd like to thank Staffordshire County Council and Stafford Borough Council for their continued support and collaboration, as well as the dedicated suppliers, staff, and volunteers that work tirelessly to create the best possible experience for athletes over race weekend. Witnessing record-breaking registration numbers for IRONMAN 70.3 Staffordshire is a hugely exciting start to the season, and we look forward to the future."

Event Information:
Read next: Prioritising inclusion in 2022 with the Leading for Renewal Programme