Staffordshire yacht sailor shares round Britain adventure!
Monday 21st June 2021
A Midlands sailor who circumnavigated Britain with a friend to raise money for charity has shared his experiences in a book titled Blue Star Adventure after the name of their boat.
Mike Goodwin from Staffordshire Coastal Cruising Club and south coast-based Roger Colmer bought the yacht together after deciding to tackle the round Britain challenge to broaden their sailing experience and raise money for the Cystic Fibrosis Trust.
The doublehanded team sailed an anti-clockwise figure-of-eight route in stages over 2015-6, joined by guest crew members along the way, who supported their fundraising by making donations in return for enjoying a week of sailing aboard Blue Star.
Mike's son Daniel, himself a keen sailor, died from Cystic Fibrosis aged 36 in 2017 and was sadly too unwell at the time of the challenge to take part. The adventures of Mike and Roger aboard Blue Star now continue to raise money for the Trust to improve the outlook for others with the disease and have so far reached a total of around £30,000.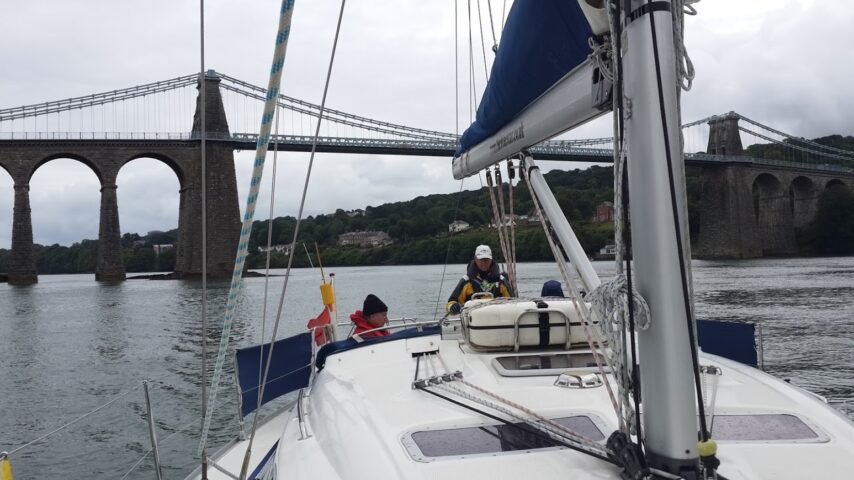 (Above image: Navigating through the Menai Straits. Credit Mike Goodwin & Roger Colmer, Blue Star Adventure.)
Their book tells the story of their circumnavigation through anecdotes about their experiences along the way, which they hope will be a great read for sailors and armchair explorers, while providing useful insights for anyone thinking of taking on a similar expedition.
Mike, a retired Staffordshire University faculty dean from Stone, said:
"We're both qualified yacht masters and have done lots of sailing over the years in the UK and overseas, so we're fairly experienced, but we really wanted to do this project to raise money for the Trust and to test ourselves as sailors."
Challenges ranged from relentless 6m waves on the North Sea to dense fog, while highlights included Scotland's Caledonian and Crinan canals, spellbinding wildlife encounters and perfect sailing days when, as Mike sums up:
"The sea was flat, the wind was in just the right direction, the sun was shining and the scenery was magnificent."
Mike said:
"Sailing the coast of Northumberland past Lindisfarne and the Farne Islands, it just happened to be the best day for sailing, and we had another good trip across the Bristol Channel, with a perfect breeze and good seas and dolphins jumping out of the sea alongside the boat. We also saw gannets, kittiwakes and puffins in the North East and sailing across St Bride's Bay off Wales you can see half the world's population of Manx Shearwaters. There was just a huge number of them on the sea and in the air and it was an incredible sensation sailing amongst all these birds!"
Mike and Roger were joined by 35 different people during the round Britain challenge, with a crew change every week or so and some guests coming from as far away as the United States, New Zealand and Sweden, who in return for joining the voyage made a donation to the Cystic Fibrosis Trust.
Mike first got into the sport in his 30s through dinghy sailing at Nantwich & Border Counties Sailing Club before taking up coastal yacht sailing and joining Staffordshire Coastal Cruising Club.
He added:
"We are about as far from the coast as you can get so we're half sailing club and half social club. We meet regularly and people are welcome to get in touch. A good number of members like to come along just for the socials and there's no pressure to step on a boat if you don't want to but equally you have the opportunity to do so if you would like to sail with us."
Among the guest speakers to have visited the club is professional round-the-world sailor Tracy Edwards MBE, who kindly wrote the foreword to Mike and Roger's book, in which she describes Blue Star Adventure as "delightful and beautifully written".
She said:
"The descriptions of the ports, scenery and sailing are just wonderful and it was easy to imagine myself back out there. I loved getting to know Mike and Roger and the many people with whom they shared their journey. It reminded me how blessed we are in the UK to have such a stunning coastline with so many varied and fascinating communities."
All author royalties from Mike and Roger's book, Blue Star Adventure, are donated to the Cystic Fibrosis Trust and Mike also raises money by giving talks to clubs and business groups, and as an RYA Day Skipper Theory instructor, from which he gives all proceeds to the charity.
Blue Star Adventure – A Circumnavigation of Britain, by Mike Goodwin and Roger Colmer, is available online and in bookstores, with a greater margin available for the Cystic Fibrosis Trust if ordered direct from Mike at:  www.michaelgoodwinsailing.blogspot.com
To discover more about sailing and start your own adventure afloat, visit: www.rya.org.uk/start-boating