9 Hole SpeedGolf Challenge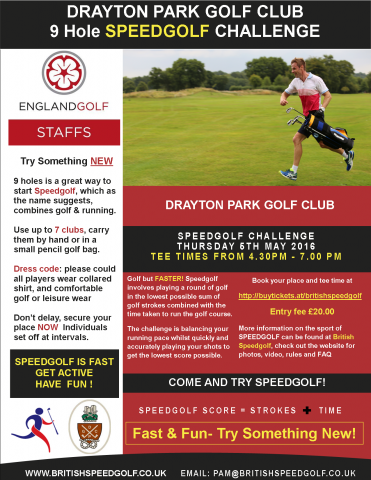 Drayton Park GC is to stage a Speedgolf event in May as the sport continues to explore the possibilities for shorter versions and alternatives to 18-hole rounds.
The Staffordshire Golf Development Group has already established Golf Express – a hugely successful project which has introduced more than 2,000 people to the sport.
Golf Express promotes 9-hole golf – all the game in half the time – and 17 of the county's clubs supported the campaign with special offers.
Now Speedgolf will offer another choice for those who find their time at a premium, but still want to enjoy all the social and health benefits that golf can bring.
Speedgolf combines playing a round of golf in the lowest number of shots possible, as usual, with the time taken to run the course.
Says Gareth Shaw, county development officer for the Staffordshire GDG: "Speedgolf is another example of how the sport continues to evolve and innovate to offer the kind of challenge, exercise and social life that people are looking to fit into their busy lives.
"It will be fascinating to see whether the runners can beat the golfers at their own game, or whether golfing precision will prevail over speed."
The Speedgolf calendar features the The British Open Championships on August 14 at Dale Hill Golf Club, in East Sussex.
Dale Hill Hotel and Golf Club general manager Carl Rundgren says: "Speedgolf is an exciting version of a great game and one which gets the heart racing, blood pumping and takes the sport to new limits and away from its traditionally staid image."
Speedgolf attracts both golfers and runners or those seeking a fresh fitness challenge. While it is more physically demanding than the traditional golf game, providing a good work out into the bargain, it is also a lot of fun.
Pam Painter, Co-Founder of British Speedgolf, explains: "The challenge in Speedgolf is balancing your running pace with your capacity to swiftly and accurately play your shots to get the lowest combined score possible.
"At the 2015 Championships Rob Hogan shot a round of 77 in just 34 minutes and 4 seconds, giving him a Speedgolf Score of 111:04 but the average Speedgolfer should be very pleased with a time less than 70 minutes for 18 holes."
Last year saw the introduction of a dedicated women's category and the 2016 event will also offer a team competition for the first time, based on an alternate shot format.
Adds Gareth Shaw: "Golf Express shows that there's always time to play golf – and Speedgolf is another example of how the game is meeting the demands of modern life."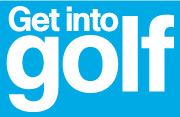 Get into golf is a national campaign to inspire new golfers run by England Golf through its county network. Opportunities include beginner and follow-on courses with PGA professionals. They are a fun and sociable way to start golf – and a great way to make new friends. Lessons can cost as little as £25 for a five-week course.
To find your nearest centre visit getintogolf.org and look at the activity map or call 0800 118 2766
Follow Get into golf on Twitter twitter.com/getintogolf or on Facebook at facebook.com/Getintogolf
To find out more about the sport of Speedgolf visit www.britishspeedgolf.co.uk
Tickets for the Drayton Park GC event are available by visiting www.facebook.com/Britishspeedgolf/