Come and play with Castle Korfball Club
What is korfball?
Korfball is a unique, fast-paced and dynamic sport that is commonly described as a mixture of netball and basketball. A team consists of both men and women who take it in turns to play in attack and defence with the aim of getting the ball in the korf hoop. Korfball is all about inclusion! It doesn't matter what your gender, age or sporting ability is, Castle Korfball Club welcomes you.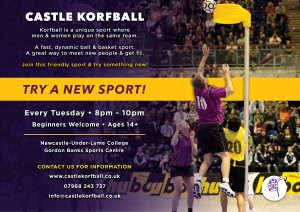 Castle Korfball train every Tuesday 8pm – 10pm at the Gordon Banks Sport Centre, Newcastle-u-Lyme (ST5 2GB).
Your first 3 training sessions are completely free and beginners are welcome.
Do not hesitate to get in contact for more information.
Mike Evans
T: 07968 243737