Plenty on offer in South Staffordshire
Wombourne Leisure Centre Launches the Ultimate Indoor Cycling Experience
Wombourne Leisure Centre have recently installed the very latest indoor cycling experience with MATRIX My Ride+

The new studio cycling bikes are an innovative and an interactive workout allowing instructors to teach live classes to forward motion video, plus the centre will now be able to offer virtual instructed workouts on demand.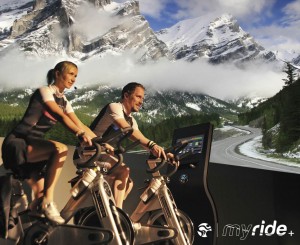 The centre has already received fantastic feedback from users of the facility and it is hoped that in addition to offering instructor led classes, the facility can be opened up for use much more with customers having the option of using a virtual instructor.
For more information call Wombourne Leisure centre on 01902 898202 or visit
Facebook.com/Wombournelc
Instagram.com/Wombourne_Leisure_Centre
---
P
enkridge Leisure Centre is delighted to open their brand new state of the art Fitness Suite this Month
The upgrade has included an extension to the previous facility with complete redecoration, and the addition of new Pulse Fitness cardiovascular equipment featuring the latest connectivity entertainment experience.  All strength equipment has been reupholstered and undergone a full service. 
Memberships start from less than 70p per day which gives you access to all areas and the use of all 4 of South Staffordshire Council's leisure centres for 1 great price!
For information call Penkridge Leisure Centre on 01785 714152 or visit
Faccebook.com/Penkridge
Instagram.com/Penkridge_Leisure_Centre
---
Back to Netball
Cheslyn hay Leisure Centre have recently launched a 'Get  Back to Netball' campaign targeting ladies to come and give netball a try.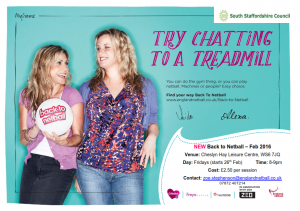 The sessions are on Friday evenings from 8-9pm and cost just £2.50 per session.
All abilities are welcome and it's a fun and friendly session.
For more information email zoe.stephenson@englandnetball.co.uk or call 07872407214
---
South Staffordshire Leisure Centres Trial New  School Holiday Camps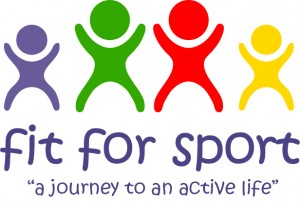 South Staffordshire Council is delighted to announce a new partnership with one of the UK's leading providers of holiday activity camps, children's services and leadership training. Fit for Sport pride themselves on offering an award winning and qualified team, and have been providing school, family and community programmes for over twenty years; supporting and delivering in-school, afterschool and holiday-camp activities in numerous locations across the UK. 
In February Fit for Sport provided taster sessions at each of South Staffordshire Council's leisure centres which proved a huge hit with customers attracting over 200 children in just 4 days!
Feedback from the taster sessions was great and as a result South Staffordshire Council are pleased to announce that fit for Sport will be taking on the previous SUSSED programmes and will be delivering high quality children's activities and offering all day care throughout every school holiday.
The Fit For Sport team share a commitment to a common goal: To provide childcare in a safe and supportive learning environment where children can try new, fun ways to get their bodies moving and discover the benefits of leading a healthy and active life.
Book your holiday activities at South Staffordshire Councils leisure centres direct by visiting www.fitforsport.co.uk or call 0845 456 3233
---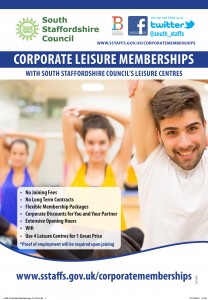 Corporate Leisure Discounts
South Staffordshire Council's leisure centres offer corporate membership discounts for local businesses and it's not just for the employees, but also for their partners!
Set your business up with a 'Corporate Account' NOW!
It's quick and simple to do and any employee can set the account up.
Our Facilities include:
Gyms

Exercise Classes

Studio Cycling

Toning Suites

Swimming Pools

Badminton & Squash
 PRICES START FROM LESS THAN £16 PER MONTH and that's accessing all areas!
 To find out more visit www.sstaffs.gov.uk/leisure
---
For more information on any of the above contact:
Sam Osbourne
Programming & Promotions Officer Leisure Services
South Staffordshire Council
Tel: 01902 696525 Fax: 01902 696546
Have you visited our website? http://www.sstaffs.gov.uk
"Like us on Facebook. Follow us on Twitter"