Children's Mental Health Pledge
As a charity, we are dedicated to increasing physical activity and improving the health of the people of Staffordshire and Stoke-on-Trent. But we know the positive impact moving more has on mental health, too.
A recent NHS survey showed that one in six children aged 5 to 16 years were identified as having a probable mental disorder, up from one in nine in 2017.
Sport and physical activity have the ability to make us feel good. Moving more can promote greater self-esteem, increase confidence and reduce anxiety. We want to support young people to incorporate being active into their everyday lives and reap those benefits.
For Children's Mental Health Week, we're making a pledge to support the mental health of children we work with.
---
Our Mental Health Pledge
We will provide safe, welcoming and inclusive environments for children and young people to be active in.
We will enable young people to support their mental health by providing opportunities to be physically active in the way they enjoy.
We will listen and learn. We will respond to the needs of young people in our community and develop channels for open communication.
We will campaign for cleaner, greener and healthier environments for Staffordshire to ensure a brighter future for our young people.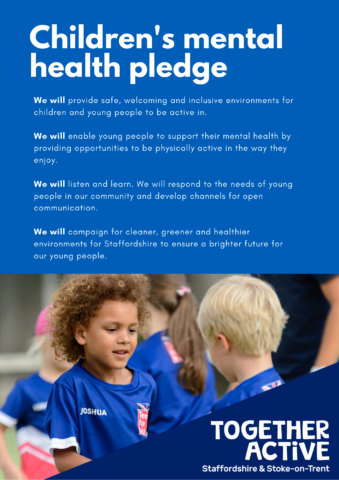 Read next: Keeping kids active