Archery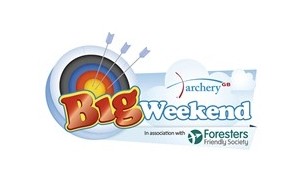 Archery GB's Big Weekend welcomes all to give archery a go.
Those looking for a new sporting challenge are invited to try out archery at their local club over the 3rd-5th June 2016.
Over the last four years, the Big Weekend has successfully introduced thousands of people to the great sport of archery. Clubs and organisations are once again going to throw open their doors and welcome members of the public to try archery for free (or just enough to cover minimal costs) at fun and friendly events.
Clubs who were involved last year have said:
"It was great to see so many people come and have a go at archery. We had a great time sharing our passion for archery and hope that we might have inspired someone to get involved in archery in the future." Brixham Archers
"We had about 25 parents and young people turning up on the day and 8 off them returned on Monday to start a beginners course. As a new club this was a great response" Irvine Toxopholites, Ayshire
"Some of the most rewarding moments were seeing participants face light up when they were able to pop the balloon placed centre gold. We went through a lot of balloons as the coaches were very good at helping participants" Bitton Archers, Bristol