Girls Football Week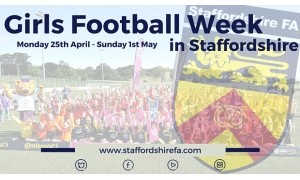 This year's FA Girls' Football Week will be expanded to two events to further drive female football participation.
The first week, which is focused on encouraging primary and secondary schools to put on football sessions for girls, will take place from Monday 25 April.
Clubs, community groups, wider educational establishments and other organisations are also being invited to run female-specific sessions during the week.
The weeks are being delivered in partnership with Independent Schools FA, English Schools FA, Association of Colleges Sport, British Universities and Colleges Sport, the Premier League and the Football League.
Kelly Simmons, FA director of football participation and development, said: "Following the success of last year's event it was decided that we could have an even bigger impact on participation levels by running two weeks, focusing on different areas.
"We hope that if more schools and groups put these sessions on that it won't just encourage girls to start playing football, but they will carry on playing regularly, particularly for teenagers where sport drop-out rates can be high.
"2015 was a landmark year for women's football and there's no doubt that big occasions such as the SSE Women's FA Cup Final at Wembley and the Lionesses' achievements at the World Cup had a big impact on inspiring more girls to play.
"We are confident, along with our partners, that even more progress will be made this year and we encourage as many schools as possible to sign up and help us to get more girls playing football."
England and Chelsea forward Karen Carney said: "I visited one of the Girls' Football Week sessions last year in Birmingham and it was great to see so many girls enjoying playing football.
"If schools can create more opportunities for girls to try football, then hopefully more will love playing."
Football is the largest female team sport in England with more than 2.89m players. There are more than 5,900 women's and girls' teams playing affiliated club football.
Read more at http://www.thefa.com/girlsfootballweek#d3ip3mk4hv8LxqBX.99