Tennis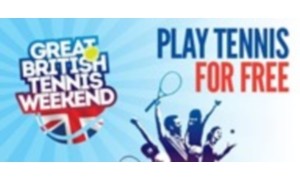 Get outdoors and try tennis for free this summer at the Great British Tennis Weekend on 14th – 15th May and 16th – 17th July 2016.
Thousands of free events will be taking place across the country for the whole family and will offer players the chance to experience Highland Spring Mini Tennis, Cardio Tennis, coaching and relaxed free play.
Rackets and balls will be provided and absolutely anyone can get involved. Whether you've never picked up a racket before or are a seasoned regular – there is no excuse not to come down.
All ability levels are welcome so book your session today!
Clubs will offer…
Adult – Try our adult coaching taster session. Ideal for people new to the sport or who haven't picked up a racket in a long time. You can borrow our rackets if you don't have your own, just come prepared to hit a few balls and have some fun.
Cardio Tennis – Cardio Tennis is a fun, sociable group fitness class set on a tennis court and open to people of all ages and abilities. Supported by motivating music and qualified instructors, you'll get to hit lots of tennis balls during your class and have a great cardio workout at the same time.
Disability – No matter what your ability there is fun to be had on court. There are modified forms of tennis to meet all needs, book now to reserve you place.
Family Time – Get on court with your family and have some fun. We'll provide modified balls and rackets for the younger ones and coaches will be on hand to give you some pointers if you want them.
Free Play – If you don't fancy a coaching session why not just try out our new facilities. You can book a slot on one of the courts for free!
Junior – No matter what your ability you'll have fun on court with of junior players your age. Coaches will be on hand to offer tips to help your game and advice on how you can continue to play.
Mini Tennis – Children between 3 and 10 years old can get stuck into the world of tennis with an exciting programme from the LTA sponsored by Highland Spring. With smaller courts, nets and rackets and lower bouncing balls, LTA Mini Tennis offers the perfect introduction to the sport, with all the fun and energy of the real thing.
TouchTennis – For all ages take part in fun touchtennis competition!!