Young Athlete Role Model Nominations
Thursday 26th November 2020
Do you know of any young person in your area who may be keen to be the Staffordshire Young Athlete Role Model for 2021?
Nominations are now open for a young person with SEND who wants to increase their confidence, develop in their sport and inspire others.
Criteria:
Age: 14 to 19
They have special educational needs or disability
Experience in participating in sport to a good standard
They have a story to tell
They're available for the two training opportunities below
Once nominated, the young person and their parents will be to contacted by Staffordshire County's allocated National Athlete Role Model, Paralympic Archer Mel Clarke , to prepare a short presentation on their journey to sporting success. This presentation, with the support of Mel, will be delivered virtually or in person at the County's Step into Sport Camp on Thursday 13th May 2021.
This is a golden opportunity for a young person to boost their own confidence, practice their presentation skills, promote their own development in sport and crucially to inspire other young people about the power of sport to change lives.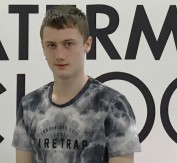 "It has improved me massively. I used to lack confidence and did not feel part of any group. Then after playing cricket, I am now keen to speak to anyone. I feel more engaged at college and I get stuck into anything that is offered to me. 
I feel better mentally than I ever have. I was very shy but now I am happy to speak to friends, teammates, strangers, children and adults."

Alfie Crane (18)
There have previously been many inspiring young people who have taken on the role. Alfie Crane (pictured) is a young person who from nervous beginnings blossomed in the Young Athlete Role Model role and went on to further sporting, leadership and career success.
Deadline for nominations: 14th December 2020
To nominate a young person or for more information, please contact Nigel Edwards.
Email: nedwards@excelacademy.info 
Twitter: @SspStoke
Mobile: 07966 509132 
Read next: Club Chat – Queensbury Police Amateur Boxing Club