Burton Girls Rugby Project
Burton Girls Rugby Project
Peel Croft, Lichfield St, Burton-on-Trent, Staffordshire, DE14 3RH
Tel: 01283 564510
www.pitchero.com/clubs/burton/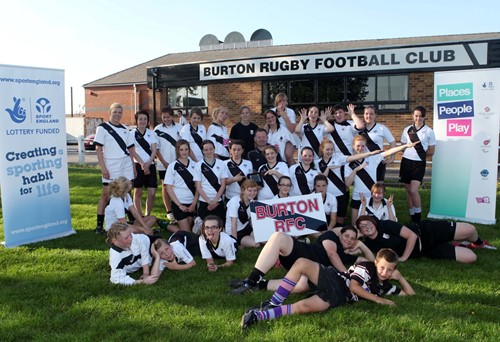 An Olympic legacy project in Burton has been honoured as the best in the West Midlands after inspiring more than 50 young people to get into sport.
Burton Girls Rugby was nominated after getting dozens of girls to give the sport a try as part of Sport England's Sportivate Olympic and Paralympic legacy initiative. Sportivate gives 14- to 25-year-olds that weren't active in their own time, the chance to find a sport they enjoy.
The legacy award was handed over to Burton Girls Rugby by England women's rugby star Emily Scarratt who is one of a team of Sporting Champions who've been visiting Sportivate sessions to share their experiences and enthusiasm for sport.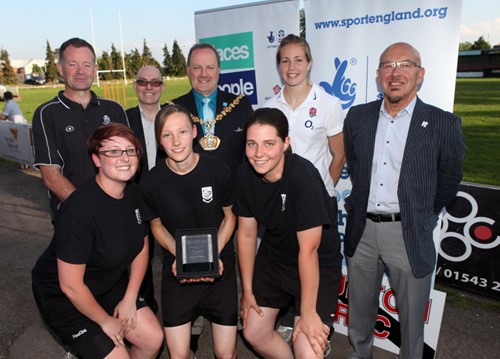 The project is exceptional in that it has created two new age groups for girls' where nothing has existed since the demise of the previous women's team approx. 8 years ago.
The project has seen some delivery at schools, which has been done via club volunteers and coaches, which has then fed into a session on a Thursday evening prior to senior men's training and also on Sunday mornings. Every session now has over twenty girls attending aged from 14-18 years of age and several adults joining in the non-contact aspects of the training.
The club has also organised and run two touch rugby competitions for local secondary schools with four local schools supporting girls rugby. Many of the girls within the club are not "your average sporty types" and most play no other sport outside of rugby.
One male coach and three female coaches (all three females have attended the RFU level 1 course since the start of the project) attend most sessions and the relationships with the participants are amazing.
The structure is now there to continue to develop this fledgling section, which is run by Mark Tolley and his three female coaches.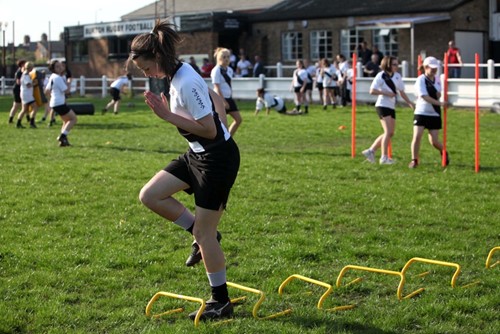 The female coaches got involved in the project via college and 2 of them were existing level 2 coaches in football but have found the environment in rugby more enjoyable.
They have also brought a fun fitness approach with the females, which is having a really positive impact on their attitudes towards hard work, commitment and physical activity.
They played their first games recently and lost one, but won a game too against a junior girls section which has been going for a considerable amount of time!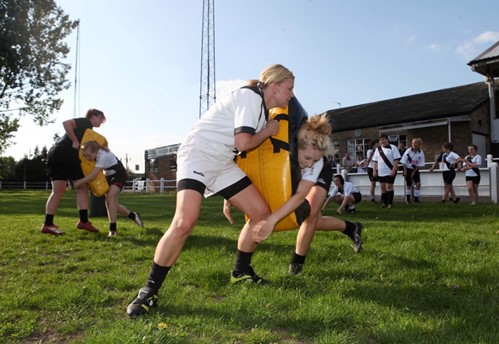 Mark Tolley deserves a huge amount of credit for his passion and commitment to this project, particularly in that he has no family involvement within the new ladies section. He has tirelessly gone into schools, pressured PE Departments to let him help them with girls rugby, organised events and got a large group of girls training twice weekly in a sport which was largely alien to the participants six months ago!
We now have two age groups for girls and also women involved in training for health benefits with a desire to develop a new women's team in future years. We will be hosting a women's touch session throughout the summer to attract older women into the club and Mark has continued his support to the local schools to ensure sustainable growth moving forward.
The project has run through the clubs community department and has seen a variety of partners involved, namely East Staffs BC Sport Devt Team, private sponsors, RFUW, RFU and local schools.