Feedback from local initiative The Cornerstone Project
Thursday 20th January 2022
The Cornerstone Project is a local initiative funded by the Free Masons Society and managed by Together Active with support from the NHS Combined Trust.
The NHS Combined Trust Suicide Prevention Lead approached Together Active to draw up a summer physical activity programme to support some of the young people aged 10-13 years that are / or might struggle with transitioning to secondary school and the impact of COVID-19.
The collaboration involved the NHS Combined Trust working to identify potential participants with their Children's Services contacts and Action for Children. Together Active have co-ordinated the provision of activities with trusted providers and will manage the grant and distribution of the funding, and MIND will support with the potential to run a supporting session for the young people and possibly staff training.
We managed (at very short notice with funding only being confirmed in July!) to pull together 4 providers to deliver through the month of August to small groups of 10 children. Our thanks to Staffordshire Wildlife Trust, Achieving Goalz and Dreams, Port Vale Foundation Trust and Gartmore Riding School for their responsiveness and flexibility in planning and delivery. In the October half-term we added 2 further deliverers for the Stafford area. Our thanks go to Right Stuff Boxing and Stafford Sports.
Nearly 250 hours of activity were delivered to 211 children with some lovely feedback from parents and children. We have trained 14 delivery coaches in the Youth Mental Health First Aid course and are looking at dates to run a second course to fulfil demand.
Steve Cato from Port Vale Foundation Trust said:
"It has been an absolute pleasure to work with you on this project. I would personally like to thank you for giving us the chance to be part of it."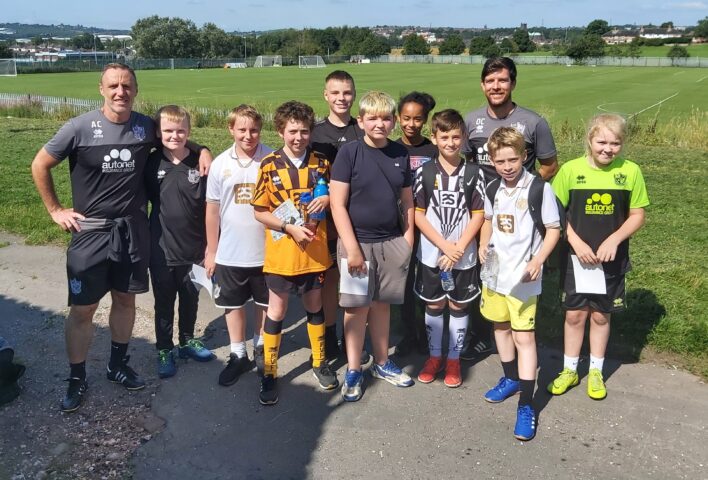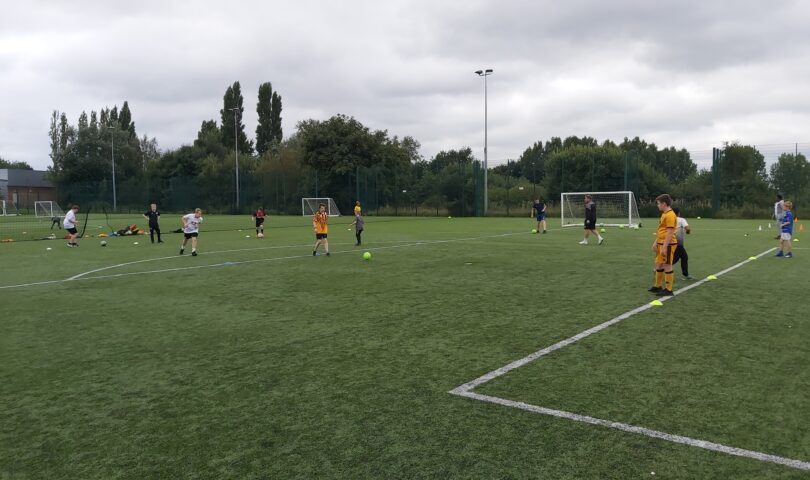 (Above images: Port Vale Foundation Trust session.)
Steve shared with us some feedback received from the session:
"The first morning N went in extremely nervous. I had a chat with Steve about N's Auditory Processing Disorder, Tinnitus and Hyperacusis and dyspraxia. He took on board what this meant for N. I picked him up and wow what a change in him from the morning. He could not stop talking about what had happened and what he had done.

They have taken a child who was extremely nervous, worrying and never part of a team into a happy child working well in a team. N is not the most co-ordinated person due to his dyspraxia but learning new skill this week has improved his co-ordination. I cannot express my thanks to the team at Port Vale they went above and beyond each and everyday."
Bal Singh from Achieving Goalz and Dreams said:
"A few photos from yesterday. Activities, team building, laughs, competition, and relax time. A day in pictures. The young people coming through this week. They came on the day. Then also went to other sessions so really building confidence and team working. They are really enjoying it."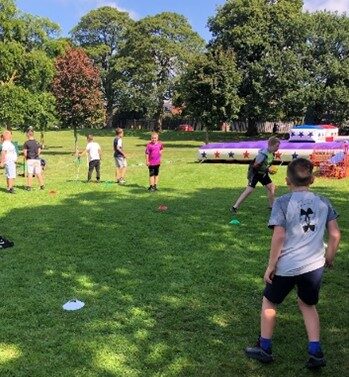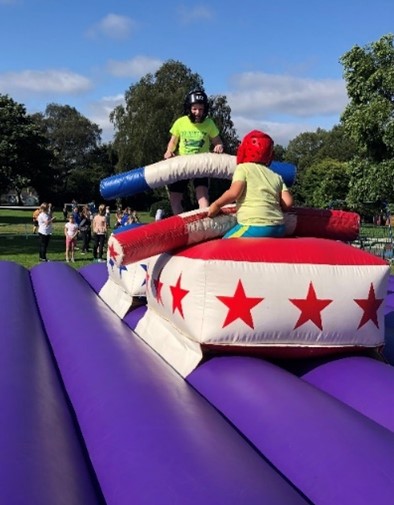 (Above image: Achieving Goalz and Dreams session.)
Katie Shipley from Staffordshire Wildlife Trust said:
"Thank you again for the opportunity. Everyone who took part had a wonderful time and some even came to some of our other activities, which was really nice to see.

Through the project I had some great conversations with parents who are just beginning to gain confidence after lockdown to come out to these events, they are dealing with 'lockdown children' who are very different in confidence and behaviour than they were 18 months ago, some shy, some just not knowing how to play with other children and one boy suffering with anxiety.

Working with Mind was really interesting, and now that we have done these two weeks and had the opportunity to see and talk about the different ways we work then we would be able to find new ways of working together."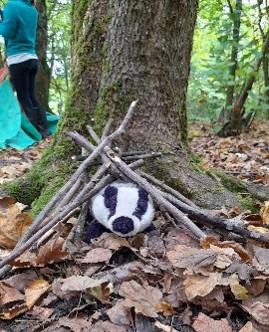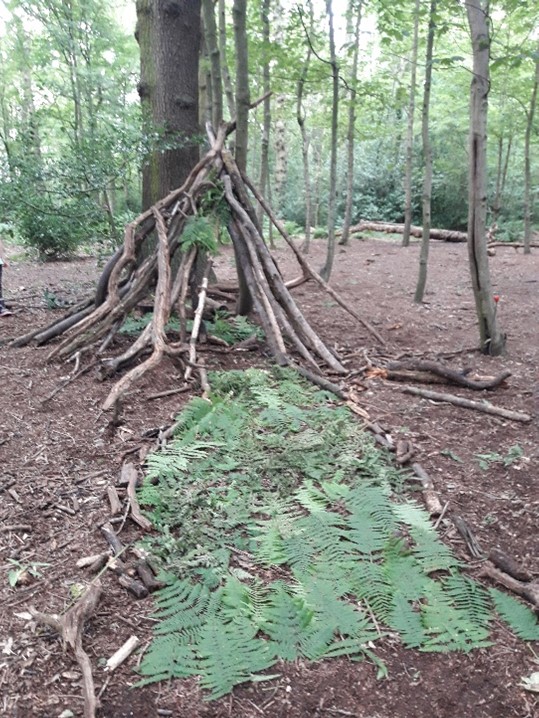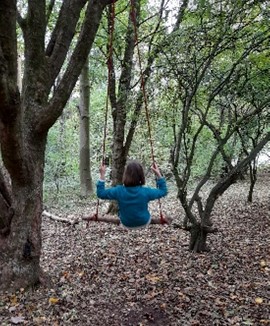 (Above images: Staffordshire Wildlife Trust session.)
Tracy Francis from Gartmore Riding School said:
"All young riders in attendance also completed their ABRS grade 1 riding or RDA grade 1 and 2. 6 of the 8 have continued, joined the volunteer scheme and/or had the confidence to go on to join group sessions after school or at the weekend.

A start up pony club for these young people to come together has been created with an hour with the horses riding and an hour of arts and crafting to give the children chance to talk and bond as a group. This has been really successful with lovely feedback from the young people and their parents. "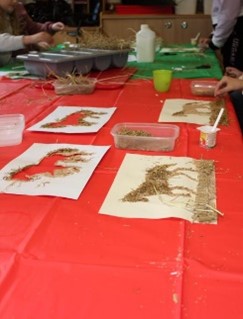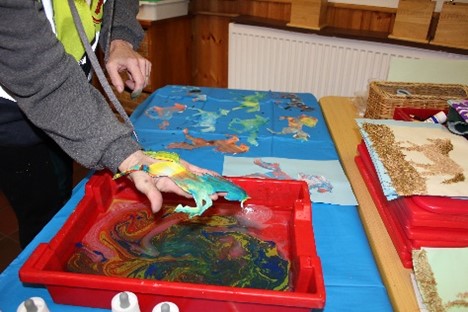 (Above images: Gartmore Riding School session.)
We had some really detailed feedback and participant quotes from our experienced provider at Right Stuff Boxing in Stafford.
Of the 20 young people that attended:
17 or more had experienced one adverse childhood experience.
8 had experienced three or more adverse childhood experiences.
10 the adverse childhood experiences involved domestic violence or parental conflict.
5 were either being seen by CAMHS or rejected/discharge by CAMHS as not meeting their criteria with 3 more on waiting lists.
1 young person was living in a Women's Refuge.
1 young person was looked after.
6 young people reported disordered eating issues.
They shared some participant quotes:
An 11 year-old boy who has spent 3 years in a Women's Refuge, gets into trouble at school a lot and has witnessed extreme domestic violence:
"I loved this week it got me out and made me happy."
An 11 year-old girl with anger and attachment issues:
"I came every day I feel safe here and want to come to all the sessions."
14 year-old female with self-harm and disordered eating issues:
"I don't feel judged here it's the first time I have gone out of the house in holiday time this year."
15 year-old female with disordered eating and trauma issues:
"This is the best therapy I have had."
15 year-old male with learning difficulties and autism:
"I love this and want to do it more."
15 year-old boy with autism and anxiety issues:
"Boxing makes me feel calmer and I like the routine."