£1.8 million cycling and walking investment for Staffordshire
Wednesday 10th February 2021
£1.8 million cycling and walking investment for Staffordshire has been allocated from the Government's Active Travel Fund – this will help Staffordshire County Council to deliver the Local Cycling and Walking Infrastructure Plan.
Improvements could include new segregated cycle lanes, wider and more even pavements, narrowing of some wider roads and additional crossing facilities. More cycle parking, priority for cyclists at junctions, and new 20mph zones could also be considered.
Staffordshire County Council asked for residents' views on the proposed local improvements, with the consultation going live on their website on Friday 12th February 2021 for a duration of 4 weeks.
---
Measures to encourage walking and cycling are vital as people cope with not only a global pandemic but obesity, inactivity, air quality, climate change and traffic congestion.
Congestion in UK cities costs the economy £6.9 billion a year and road users lose, on average, 115 hours and £894 a year because of it.
Walking and cycling often gets hailed as a wonder drug or miracle pill that can make us healthy and help the NHS. It can also help improve air quality, reduce road congestion, and combat climate change which ultimately will benefit us all.
We need to increase the diversity of people walking and cycling, reach people who may be disadvantaged and ensure we do not exacerbate health inequalities between people for example:
Latest research shows there's large unmet demand for cycling from disabled people.  A Sustrans Bike Life report shows that 31% of disabled people who do not cycle would like to start cycling.
We need our town centre streets to be more inclusive by making people feel safer when walking or cycling.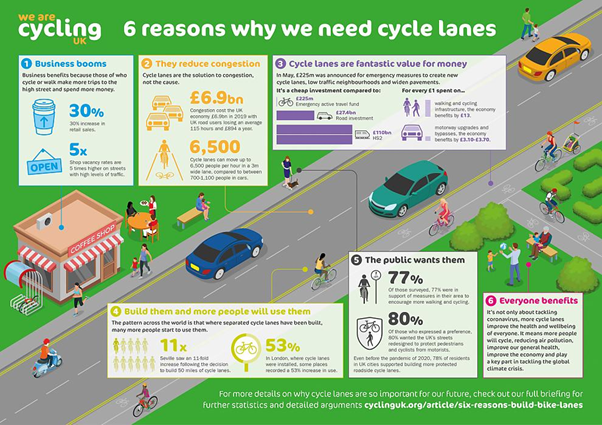 People under 25 have already been hit hard economically by the pandemic and with concerns about public transport due to Covid-19 and the prohibitive cost of buying and running a car young people are experiencing real access barriers to work.
Walking and cycling could be a viable and cheap option for climate conscious young people and a safe network of separated cycle lanes would be a welcome supportive measure.
There has however been a backlash against 'pop up' cycle lanes (installed by some Councils to promote cycling during the first lockdown, the Emergency Active Travel Fund Scheme).
In some cases, these lanes are being removed by councils responding to a few disgruntled motorists and businesses without properly assessing the lanes' effects or fully engaging with the public to gauge their opinion.
In November, YouGov carried out a poll on behalf of Cycling UK which revealed that 61% of people agreed with the statement 'we should make it easier for people to cycle by building more separated cycle lanes. Only 19% of people questioned disagreed.
Building cycle lanes and improving or widening footways to enable more people to replace some shorter car journeys by active travel is the solution to congestion, not the cause.
And yet some sections of the media perpetuate the myth that cycle lanes cause traffic congestion even though statistics show that the main contributory factor to congestion is the rising numbers of motor vehicles in residential areas.
In 15 years, motor traffic on minor urban roads has increased by 36% – with miles travelled by car and vehicle registration numbers increasing annually.
Increased levels of cycling can bring benefits for everyone, whether they cycle or not. Bicycles take up far less road space than cars and emit no toxic fumes, which can be particularly harmful to children.
Exposure to roads with high vehicle traffic accounts for 14% of all asthma cases in children (a similar impact to that of passive smoking). Every year in the UK, outdoor pollution is linked to around 40,000 deaths.
But to capitalise on these benefits it's crucial we engage with and listen to people in the places they live and work – to recognise the barriers, challenges and local context, and understand how active travel can work for them.
The best we can all do to counter the backlash to the bike lanes is to let our councils know how important they are for our safety and to encourage more people to leave their cars at home for those shorter journeys.
Help make Staffordshire a greener, healthier and happier place.
Read next: Active Adults – staying active