Hoop Skills Conference with Lucius Too Tall Wilson
Monday 15th February 2021
Hoop Skills Basketball Academy is inviting potential students looking to attend Stoke-on-Trent College and join Hoop Skills Basketball Academy to take part in an Zoom Conference.
The conference will take place at 6pm on the 15th February, and is the latest in a series of events taking place every Monday until the COVID-19 lockdown is eased. The first was held on the 18th January and was very well received, with input from United States Coaches, Professional Players and Hoop Skills Alumni.
Tonight's conference will feature special guest Lucius Too Tall Winston from the Harlem Globetrotters.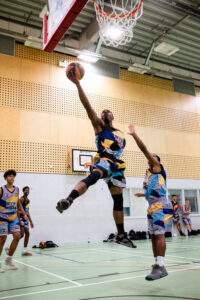 Head Basketball Coach Shawn Jamison said "The players really enjoyed the meeting which focused on being self sufficient during the lockdown. We had about 25 student athletes on and are looking for more to join."
To join tonight's conference, please click the below button at 6pm.
Meeting ID: 869 9720 2399
Passcode: 810122