Health Professionals
Delivered by our in house training team, these social prescribing courses are designed to allow you to embed physical activity in your work with patients to allow them to lead healthier lives.
---
Social Prescribing and Physical Activity Workshop
Learn about the benefits of physical activity, how to motivate and engage your patients to move more in their daily lives, and use behaviour change principals to develop new healthy routines.
Delivered via Zoom workshops in two parts over two weeks, these workshops are a mix of interactive tasks and roleplay and presentation.
The session will seek to:
Upskill staff and volunteers working in social prescribing on sport and physical activity.
Help staff and volunteers to be more confident in advocating sport and physical activity to their clients.
Support inactive Londoners to become more active.
Interested candidates should:
Be involved in the provision of an established social prescribing service, either as a link worker or social prescriber.
Be keen to improve their knowledge of physical activity and sport.
Be prepared to commit some time to attend a whole day training course and a subsequent half-day follow-up.
This workshop was developed in partnership with London Sport and the University of Kent.
Together Active are utilising the training to upskill link-workers in Staffordshire and Stoke-on-Trent.
More specifically, with increasing your knowledge, awareness and confidence in talking about physical activity.
The impact of this will support us in guiding people across Staffordshire and Stoke-on-Trent to become more physically active and enjoy a better quality life in heart and mind.
What we will cover:
Introduction to physical activity

Benefits of physical activity

Engaging all populations in physical activity

Integrating physical activity advice in to social prescribing

Coronavirus Pandemic and physical activity

How to change behaviour through use of BCTs

Motivational Interviewing

Maintaining changes in behaviour

Sharing knowledge on local opportunities

Coronavirus specific resources
Method:
What you will receive:
Register your interest
Download our flyer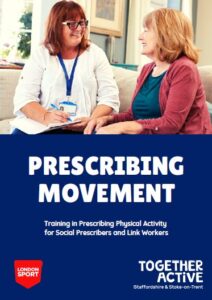 ---
For information and pricing for booking closed sessions, please contact hello@togetheractive.org