Sports Awards 2014
Last night (4th Nov) saw some of the county's finest sporting clubs and volunteers coming together to be honoured at the Sport Across Staffordshire & Stoke-on-Trent Sports Awards. Held at Staffordshire County Council the event recognised the achievements and commitment of local people in developing local community sport. Awards were up for grabs in five categories and proved a challenging task for the judging panel in selecting county winners.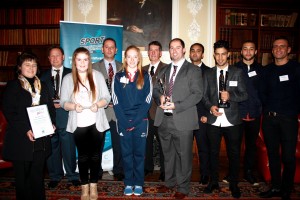 GB Cycling Performance Academy member, Emily Nelson, from Lichfield was also present to inspire the audience with her sporting journey to date and her aspirations after already grabbing a world record junior title. After a tense lead up to the awards, the following 5 award winners were announced;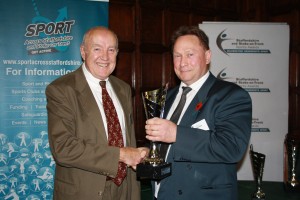 (Picture: David Pinnock – SASSOT Board Member / Judging Panel Member with John Anderson)
John Anderson has  been involved in angling since 1986 and has dedicated endless voluntary hours  to develop the sport and enthuse others.  John began coaching through schools in a variety of disciplines and was the driving force in setting up FISH2013, a new burton based fishing  club.   He has worked with social  services to help young people to build their confidence and self-esteem  through the sport of fishing.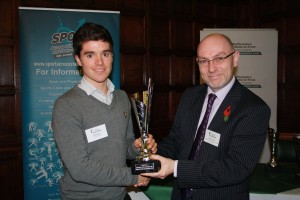 (Picture: Russell Turner Sport England with Rob Payne of Volleyball England)
In April 2014 Newcastle-under-Lyme Volleyball Club gained Volley3 and is only 1 of 3 clubs in England to achieve this highest club mark level of accreditation.  From October 2013 in just six months the club created a junior league engaging twenty seven new teams for boys and girls at under 13's, 15's and 17's level.   This engaged over 100 young people and was made possible after being awarded £10,000 Sport England Small Grants funding.  The clubs development has continued to gain momentum with the creation of a sitting Volleyball section offering opportunities for disabled people to play the sport.  Young people are seen as a crucial part of the sustainability of the club.  This ethos has been carried forward through the development of 10 young leaders this year who officiate, coach and support teams in the new Junior Spike league on a weekly basis and school games at level 2 and level 3. Newcastle-under –Lyme Volleyball club has developed a strong ethos and drive to become the best it can be and remains at the heart the community with residents far and wide aware the work of the club.  The club has strived to make a less profiled sport accessible to all in particular driving forward opportunities for disabled people.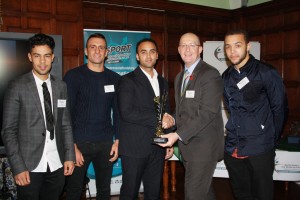 (Picture: Carl Bennett Stoke-on-Trent City Council Public Health with
Engage Communities Round House Boxing Satelitte Club)
The Round House Boxing satellite club was created to reduce the tensions that were  highlighted following the recent merger of two schools in Stoke-on-Trent and to improve community cohesion in the area. The project brings young people from all communities together in a fun boxing environment, helping to instil discipline and teach respect whilst learning about each other and making new friends.  The boxing sessions are open to the wider community helping to bring together diverse sections of the community in a positive and productive  environment.  The project has successfully contributed to the work of Engage Communities in helping to reduce anti-social behaviour.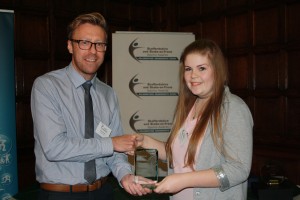 (Picture: Matt Sandoz BBC Radio Stoke with Lauren Wareing)
Lauren is a volunteer with the Lichfield Positive Futures project that works towards reducing anti-social behaviour and educating young people on the side-effects and consequences of drug and alcohol misuse.  In the past 12 months Lauren has been inspired to become an active volunteer on the project and has taken on additional responsibility whilst also juggling college commitments.  Lauren has proceeded to complete her Dance Leadership Award as well as her Community Sports Award Level 2.  In July 2014 Lauren helped to plan and organise a 'CommonWealth Pop Up' event which saw over 40 young people take part in sports taster sessions. Lauren has become an excellent role model for the younger girls involved in the project to whom she often provides extra support and guidance.
Abbie originally joined Newcastle-under-Lyme College in September 2011 on a BTEC Public Services course from St John Fisher Catholic high school after completing her GCSEs. Abbie quickly decided that a BTEC course was not for her and was offered a Sports Apprenticeship within the college's own Academy of Sport. Abbie soon became an integral part of the day to day operations within a busy department and helped to develop new programmes, especially the ladies basketball Academy. Abbie juggles her academic and work commitments with playing basketball and netball for the college. Abbie has now moved onto a level 3 Apprenticeship programme within the Academy of Sport and it is hoped she will continue to work for the college once this course is complete.