Free cross-curricular world map from The Daily Mile Foundation
Wednesday 7th September 2022
After the UK hosted a successful Commonwealth Games in Birmingham, we need your help to run, jog, wheel or walk the Games to its next location!
As part of the Commonwealth Games National Legacy, The Daily Mile Foundation with support from Sport England and the National Lottery have created a free resource that inspires children to be active by taking them on a virtual journey across the globe.
The 21-day journey is from Birmingham to Victoria, Australia, who will host the next Commonwealth Games in 2026.
The free Map and Passport enable primary schools and nurseries to learn about the athletes, landmarks and cultures of nations that visited the UK for the Games, whilst improving their physical and emotional health with The Daily Mile.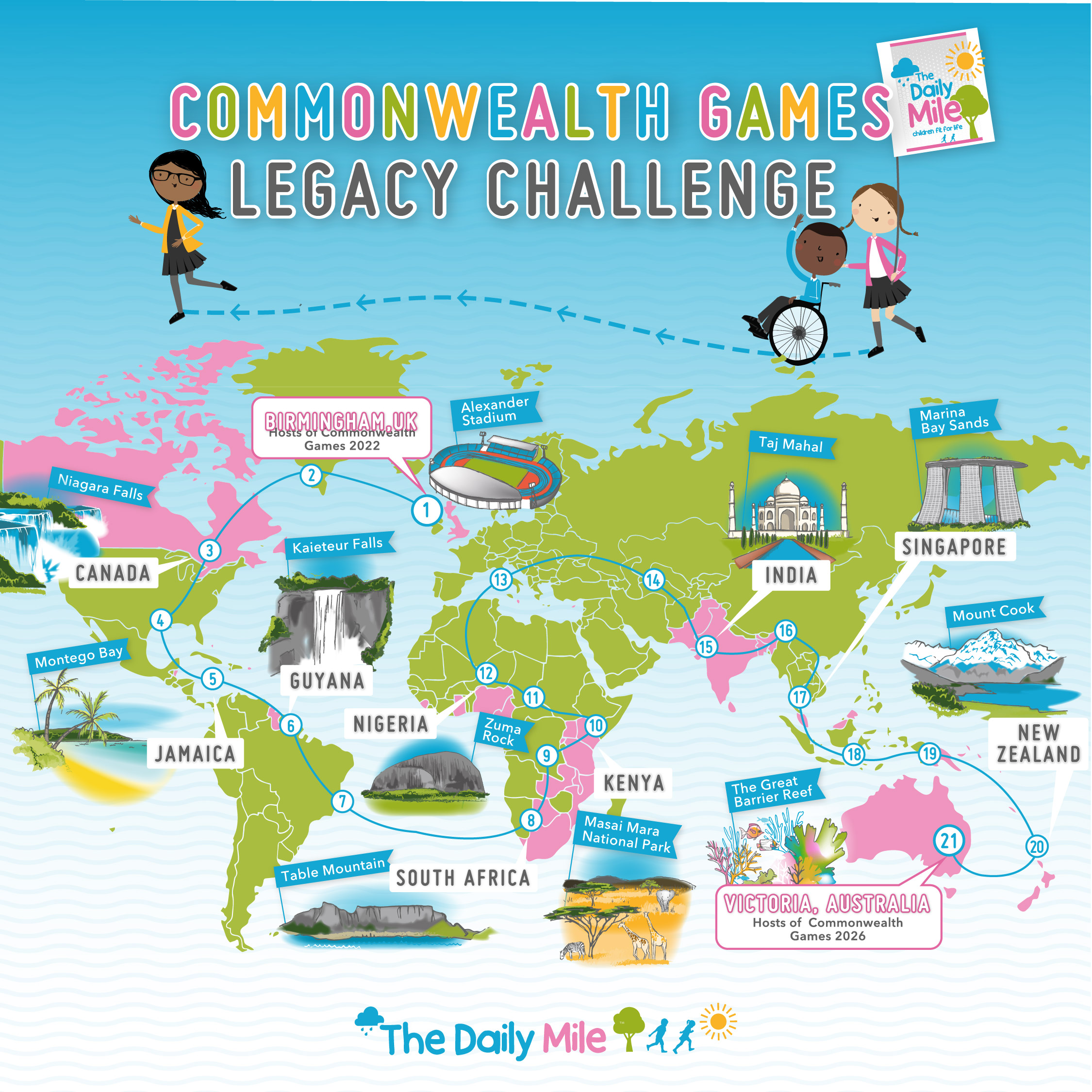 How to access the resources:
Registered Schools: If you're one of the over 10,000 UK schools already signed up to The Daily Mile, your resources have been sent via email on 5th
You can contact The Daily Mile Foundation (team@thedailymile.co.uk) if you'd like them to resend the link.
Unregistered Schools: If you've not yet joined The Daily Mile community, you can do so for free here: Sign-up
The Daily Mile team will send you your resources soon after you have registered.
Not sure if you're school are signed up? Why not check-out the global map
The resources are available to print, or via an interactive version that can be displayed on your school's whiteboard.
What is The Daily Mile:
The Daily Mile is a social physical activity involving children running, jogging, wheeling or walking – at their own pace – in the fresh air with friends. It takes just 15 minutes and is a non-competitive activity that can fit within your school's schedule. See The Daily Mile's website for more detail, including their 10 core principles.
Over 3.5 million children are doing The Daily Mile across the globe. It is a proven campaign that has been endorsed by the DfE and is evidenced to enhance children's mental health, concentration levels, and physical wellbeing.