The benefits of walking and cycling more
Wednesday 19th October 2022
We all know that being active is great for us in many ways; physically, mentally, socially and more. And we know that walking and cycling are both a lot kinder to the environment than driving.
However, there's still some ways that many of us could make changes so that we use our cars less, and use active transport more.
The way we get around has a key role to play in addressing climate change; currently 27% of the UK's emissions come from domestic transport. [1]
One of the main reasons why people choose to drive over active travel is due to the convenience. Walking or cycling to places may take longer, and other factors such as the weather can come into play.
But active travel is cheaper than driving, and in areas dominated by traffic, it's often quicker. For places further away, you could walk or cycle part of the way, and then use public transport for the rest of the journey.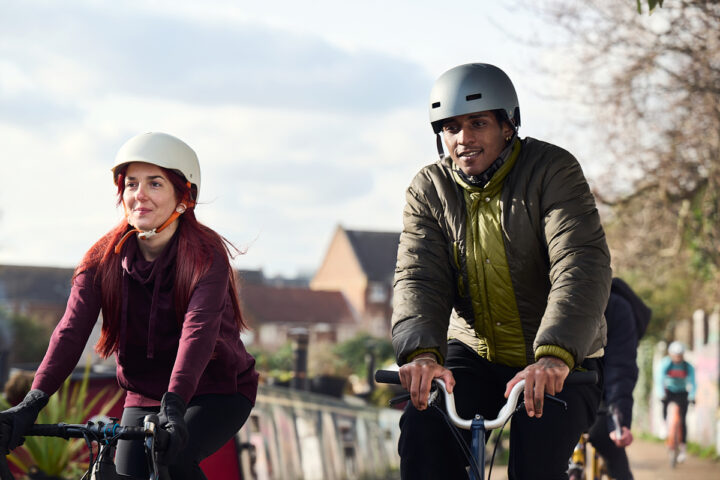 There are plenty of ways you can combat these obstacles though; you can incorporate walking or cycling your life without completely changing your routine in a way that suits you. Many people enjoy the benefits of walking or cycling by adding it into their life in small ways, such as choosing a day of the week to walk the kids to school. Check out these tips on going car-free.
Cycling UK's website has tons of tips and guides to help you get started with cycling, or get back into it. They also feature plenty of cycling events you can get involved with, including social rides suitable for beginners or those less experienced with cycling.
You can also download a traffic-free routes guide to find routes that you can feel more comfortable cycling on.
If you have been considering cycling to work, why not check out this great blog about Sanjay and his story along with his tried-and-tested tips for starting to cycle to work.
With the weather starting to change, Sustrans has some great tips on ways to stay motivated for winter cycling.
If you like the sound of cycling but your friends or family aren't sure, why not check out these tips on encouraging family and friends to start cycling.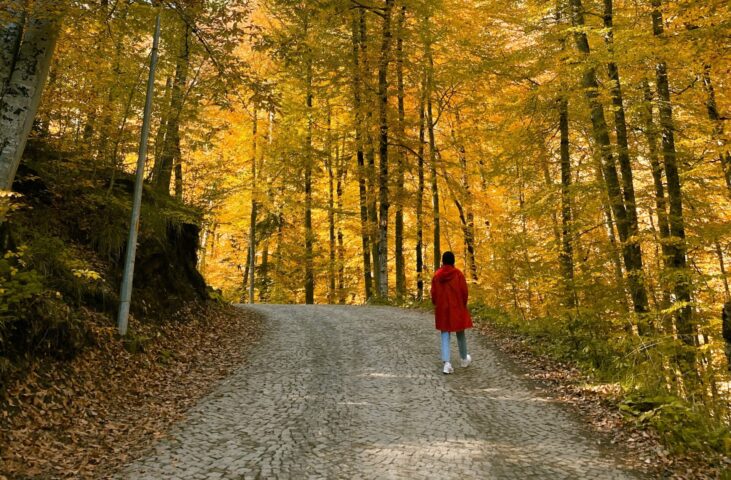 If you don't quite feel confident enough with cycling, walking may be a great option for you. Walking is free, simple, and one of the easiest ways to get more active. Sometimes overlooked as a form of exercise, walking briskly can gradually build your stamina, help clear your mind and improve your mental health, and help your heart health. Check out these tips on walking for health, including some free useful apps and resources.
Local projects play a vital role in helping people get more active through walking and cycling. Walking Connects is a project engaging with over 50s in areas where there are higher levels of loneliness and deprivation and lower walking rates, including Stoke-on-Trent. They are working with communities to train up to volunteer walk leaders and Community Street Reviewers who will be equipped with the skills and knowledge to make recommendations about their local walking environment.
Living Streets' Walk to School campaign also does some brilliant work on helping children and their families feel confident to walk to school. It's been proven that children who do some form of exercise before school do better in class because they arrive refreshed, fit and ready to learn. Their website features a ton of resources and challenges for schools to use.
Staffordshire County Council's pages on cycling and sustainable travel are worth checking out also. Stoke-on-Trent City Council have also produced transport pages, including tools such as a cycle planner.
Locally, some great work has been done to help get more people cycling and walking. The government has awarded £12.7 million in multi-year funding to 11 local authority areas in England to pilot social prescribed walking and cycling activities.
As well as this, Staffordshire County Council's innovative and locally tailored pilot project will support communities in Newcastle-under-Lyme to increase participation in walking and cycling for all abilities via a team of INTO Coaches. Together Active supported the bid and will sit on the Project Board.
In 2021, £1.8 million investment was awarded for cycling and walking for Staffordshire from the Government's Active Travel Fund. This funding enabled Staffordshire County Council to deliver the Local Cycling and Walking Infrastructure Plan.
Together Active routinely respond to transport consultations and Local Plans to advocate that cycling infrastructure should be segregated from the highway to increase safety and uptake of Active travel. It should provide for cyclists from 8 to 80 years of age following Department for Transport Local Traffic Note 1/20 Cycle Infrastructure Design guidance.
We will also be responding to the new Stoke-on-Trent City Council Transport Strategy, which will include cycling and walking plans.
---
[1] Department for Business, Energy & Industrial Strategy.
Read next: Together Active Organisation Essentials Training.